Weighing New Options 2 RESTART:
Getting Back on Track to Leading a Healthy and Balanced Lifestyle (2012)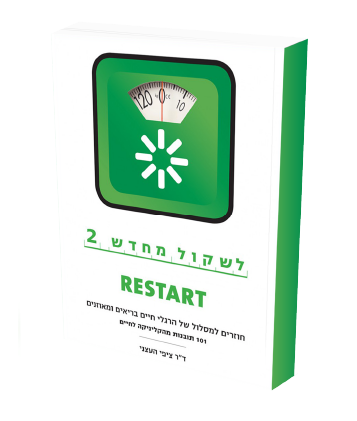 Weighing new options RESTART is based on Dr. Haetzni's ongoing work with people who struggle with chronic obesity and difficulties in self- regulation. The book incorporates clinical vignettes intended to inspire readers and equip them with practical tools to recover from relapse and regression to previous unmodulated eating and lifestyle habits. The insights presented in this book are organized in 6 segments according to the various stages of recovery from relapse and returning to a healthful and balanced lifestyle.
The following chapters appear in the book:
Part 1 – Getting out of the rut
Part 2 – Building the infrastructure
Part 3 – Developing a realistic routine and sticking to it
Part 4 – Emotional eating and crisis management
Part 5 – Complex challenges  
Part 6 – Looking ahead: Your emotional and physical long term pension plan  
*Available in Hebrew only, through the Hebrew site or Rimonim Publishing
98.00 NIS
Inc. Shipping & Tax